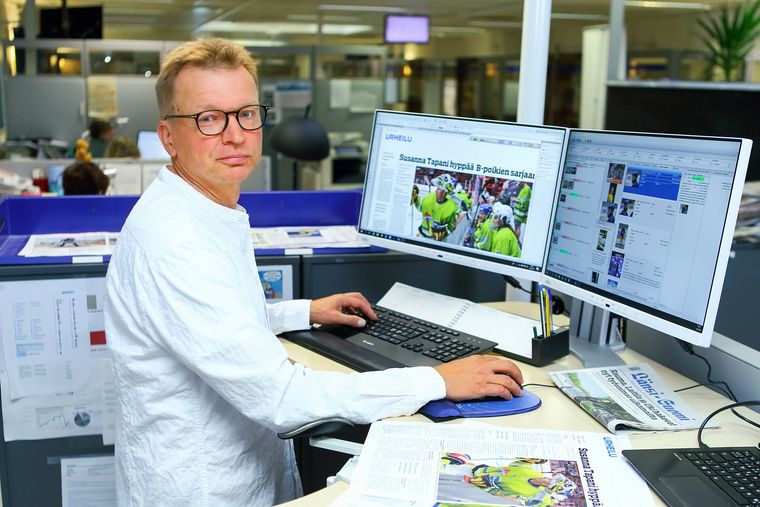 Journalist Juha Närvä has worked for the Marva Group newspaper, Länsi-Suomi, since 1990 and has been involved in developing the newspaper during the media revolution. A young Ostrobothnian journalist started as a sports reporter in Länsi-Suomi and thought he would enjoy one Autumn. That Autumn has stretched for years.
– I thought I'd enjoy one fall. I am a native of Ostrobothnia and I knew nothing of life in Rauma. The autumn has now lasted more than 28 years and now my life is in Rauma, says Juha Närvä.
Juha Närvä works for Länsi-Suomi as an Editorial secretary and a layout manager. He is responsible for the design of Länsi-Suomi and city newspaper Raumalainen and is involved with their content. Every day he manages the layout of both publications.
– The most rewarding part of this work is good feedback from readers. Successful layout makes a good newspaper story even more attractive or easy to read. We want to give the customer a pleasant reading experience. The most challenging thing in layout work is the hurry. The newspaper must go to print at the right time, so the editorial secretary has a big responsibility in that sense, says Närvä.
– The newspaper is produced professionally and always with the reader in mind. We want to convey interesting articles from Rauma, Finland and the world.
In the breeze of change
– There have been many changes in recent years and decades. Länsi-Suomi has been well involved in the media revolution because we have dared to renew and develop our own operations.
– The development does not stop there however, you can always learn something new. Länsi-Suomi has a good sense of development: the company evolves when employees are allowed to develop. This ensures you will not be left behind by change, but instead you can ride along at the forefront.
A human-centered employer
Närvä has enjoyed a great time in Rauma and at Länsi-Suomi. In a family company, business owners are visible in the workplace, some of the Marva Group owners work on the same floor. The employee is valued and there's never been any issues with the employer.
– I've always been well taken care of and I'm sure in larger companies you can't speak as freely or do a high five with the owners in the office, it's probably why I enjoy it here so much.
– It feels like working in a family company is more people-oriented than in larger companies. I have found my place in the company and the work I do is meaningful, Närvä contemplates.